There is a restaurant in Santa Monica that we like to eat at called El Cholo. They offer Pralines at the end of the meal. Then, I found this delicious, easy Southern Praline's recipe in an old cookbook that my husband's parents purchased in the 1950's while on a trip of the Southwest here in the good old USA. I made them to bring as a dessert to a dinner party recently and while I knew they were good, everyone flipped out. Good thing this recipe is so easy.
1 1/2 Cups Brown Sugar
1/4 Cup milk or cream
2 Tablespoons Butter
1 Cup Pecans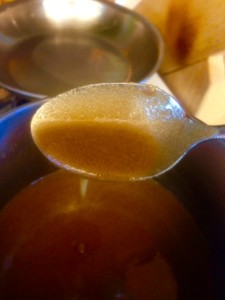 Heat the sugar and milk in a saucepan. Stir it often until it starts to thicken.
Add the pecans and the butter. Cool off the flame and drop by spoonfuls on a buttered surface or wax paper. Done! Salty, sweet, nutty crunch – just yum.
I think I may make these in batches to give out this holiday.