I love discovering easy , simple, family recipes.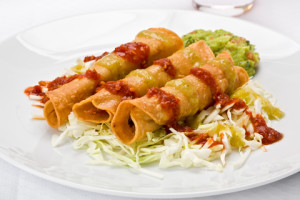 These chicken taquitos are an authentic , Mexican recipe and so amazingly easy to make I don't think I'll ever buy taquitos in a Mexican restaurant or take-out ever again. And this recipe makes so many – so it's very budget friendly.  Today, I am going to make these using leftover turkey and leftover mashed potatoes now that Thanksgiving is over. A fun batch of food now that the boys are back in town! And since the corn tortillas are gluten-free, everyone can enjoy them.
Ingredients:
1-2 Chicken Breasts with Bone
1-2 Heaping Tablespoons Mayonnaise
1-2 Large Potatoes
Pepper to taste
Tortillas (corn but flour work as well).
Favorite authentic salsa , guacamole and sour cream
Boil chicken and potatoes in a big pot of water until done.( If using leftover chicken or turkey, boil the potatoes and drop the poultry in just a minute before potatoes are done.)
Let both cool enough to handle. Remove the skin from the chicken,  remove the meat and shred it with a fork. Place in bowl. Peel the skin off of the potato and add the potato without the skin to the same bowl as the chicken. Add the mayo and pepper and mix together using a fork.
Warm the tortillas (so they are soft enough to roll) in oven, pan or microwave.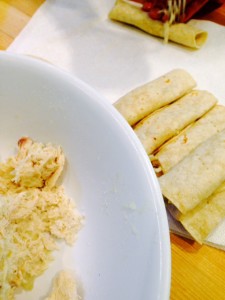 Spoon the chicken, mayo and potato mixture into the center of a tortilla, roll up and secure with toothpicks. Stab with a fork (so they don't explode in the oil).
Fry in hot oil or if you want to bake instead, place on a baking sheet and brush oil over the tortillas and then bake until golden brown and crispy.
Serve with cut avocado or guacamole, salsa and sour cream.
Maria (who I got this recipe from) also soaks sliced yellow onion in vinegar for just a few minutes and serves under the taquitos along with shredded lettuce. A really, simple nice touch!