I heard this on NPR and finally made it. I apologize that I cannot remember the name of the chefs being interviewed but there were more than one – and they all shared the same best method for cooking a simple piece of fish. One added an ingredient I had never heard of before, but it was easily found and now I use it often!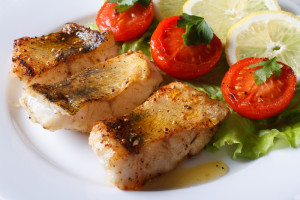 Make sure the grill or pan is well oiled and really hot before you put the fish on it.
Let the fish form a nice crust before you flip it over to cook the other side (about 3-4 minutes depending upon the thickness of the fish).
Then, top simply with:
a drizzle of a nice green fruity olive oil
a splash of some type of fresh citrus juice (like lemon, grapefruit or lime).
salt and pepper  
a sprinkling of fennel pollen (available at food specialty stores or online).
I purchased a tin of fennel pollen online. (I also add it to my spaghetti sauce now instead of having to grind up my fennel seeds to add a touch of licorice flavor.) I like to serve fish with the Muhammara Dip I recently discovered on the side. Enjoy!