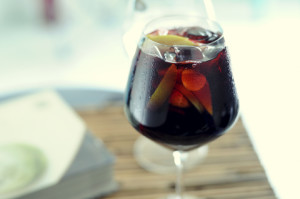 This recipe can be adjusted so easily to suit your tastes. It makes me really happy that whenever I make it, people rave. My friend Mary Ann told me it's the best Sangria she's ever had. It is a great drink to serve at a Paella dinner instead of multiple bottles of wine which can be expensive. The secret is both the concentrated orange (or lime)  juice and the additional liquor.
1 Bottle Cheap Red Wine
1/4 can Concentrated Orange or Lime Juice (or combo)
1 Cup Cognac
1/2 Cup Triple Sec
2 Sliced Apples, Limes, Oranges
1 Cup of frozen, seedless grapes (a fun touch but optional).
Mix to combine in pitcher. When ready to serve pour over ice and top with seltzer water.
easy, recipe, best sangria ever, award winning, kick ass, rave, strong, party, pitcher, cocktail, cocktails, 
easy sangria kick ass simple party picnic cocktail dinner brunch