We frequent a French restaurant in Redondo owned and run by a man and wife team. He works hard every day in the kitchen and she runs the front of the house , greeting all of the guests every shift. The food there is amazing and I just love going there because I know how much hard work goes into every meal that comes out of their kitchen. I realized I craved the steak they serve there for one reason – the steak butter he tops it off with that melts onto the meat and plate to be absorbed by his , "pommes frites". He also drizzles garlic butter on top of the French fries which doesn't hurt.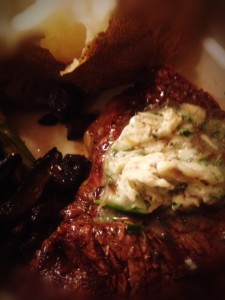 Now, I make this butter, store it in the fridge and whip it out when we make steak. It really does gives it that simple and delicious  "je ne sais quoi". 
Butter, 1/2 to 1 stick 
Garlic Clove, 1/4 only smashed
Lemon Zest, 1-2 teaspoons
Lemon Juice, 1-2 teaspoons
Salt and pepper, Pinch to 1/2 teaspoon
Fresh Thyme (or fresh green herbs of choice like basil, parsley…) 1-2 teaspoons
Bring butter to room temperature to make it easy to mix. Mix ingredients with a fork or food processor (my favorite is a little old-fashioned one called an "Oscar" although there are mini-processors available now in stores). Keep in the fridge or freeze until ready to add to the top of a finished steak right before serving.