I rarely shop at Gelson's market because it's a little out of my budget. But sometimes, I splurge and swing by the one close to my Mom's and buy some food to take to eat at her house when I visit. I am so impressed by their deli case. They have so many options and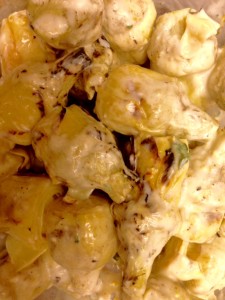 their side salad recipes are inspiring. Last time I was there, they had a huge platter of grilled artichokes in lemon aioli. I love that word, "aioli". But let's face it – basically it's mayo. But "aioli" does sound so much more exotic. After tasting them, I realized it would be really easy to recreate the recipe – so I did. Now I make these frequently. Lately, I've been on a diet and artichoke hearts (as long as they aren't stored in oil) are on my limited 'free' foods list – so I keep these in the fridge to snack on.  
Lemon Aioli Recipe:
1/2 Cup Mayo
1 Tablespoon Lemon Zest
Juice of 1 Lemon
Salt and Pepper to taste
1 Tablespoon Honey or Agave or Brown Sugar
(Optional) Fresh Thyme Leaves, chopped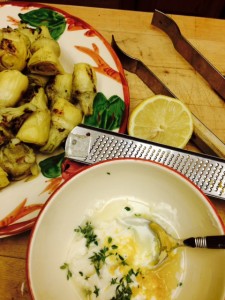 I use the canned artichokes in water from Trader Joe's. Drain, grill, cool and mix with the aioli. Chill until ready to eat.