One of my eldest's son's favorite restaurants is near the forum in Inglewood. Last time, we ate there my daughter discovered their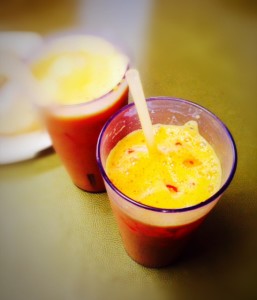 sweet, mango lassi. It is such a simple recipe, that now we make it at home the way the restaurant does. Plus, it is a great breakfast alternative because of the fruit and yogurt – that and you can put it in a cup and take it in the car for a breakfast or snack on the go.
Ingredients:
2 Cups Plain Yogurt
2 Cans Sweetened Mango (like Dole) or Sweetened Mango Pulp (available in Indian Markets).
Additional Honey or Sugar to sweeten (optional).
Milk to thin (if desired).
Add all ingredients into a blender and blend until smooth. Serve over ice.